HOW MANY CATEGORIES CAN MY BOOKS BE LISTED UNDER?
Choosing the right book categories can have a huge impact on whether your book becomes a #1 Amazon Best Seller or not.
When you set up your book details on KDP prior to publishing, you are invited to choose two categories.  The range of categories you are choosing from is very limited.  These are called BISAC categories and are basically used in the publisher/bookseller relationship and amount to just under 4,000 categories in total.
When you consider that Amazon has a selection of over 11,000 main categories and sub-categories, you can see that your initial choice is less than ideal.  Amazon may also add the odd category or two that they think are relevant to your book.
On your book's sales page on the Amazon platform, you will only ever see up to three book categories for your book and your competitors.  That does not tell the whole story.
What many authors do not realise is that Amazon will allow you 10 categories each for your e-book and print version.
It is always good policy to check out your competitors on any number of issues and not least what categories their books fall under.  So how do you find out what categories your competitors' books are linked to?
There are 2 ways to do this:
HOW TO FIND EXTRA BOOK CATEGORIES
Publisher Rocket is one of the best investments you can make and I personally believe no serious author should be without it.  This software will show you in seconds how many book categories any Amazon book is listed under, which means you now know what categories your competitors have opted for.
Not only that, but it shows you how many sales a day you'll need to make to become a #1 best seller in any category and so many more incredible tools like keyword research.
The image below shows the Competition Analyzer where you can find every category your competitors' books are listed under.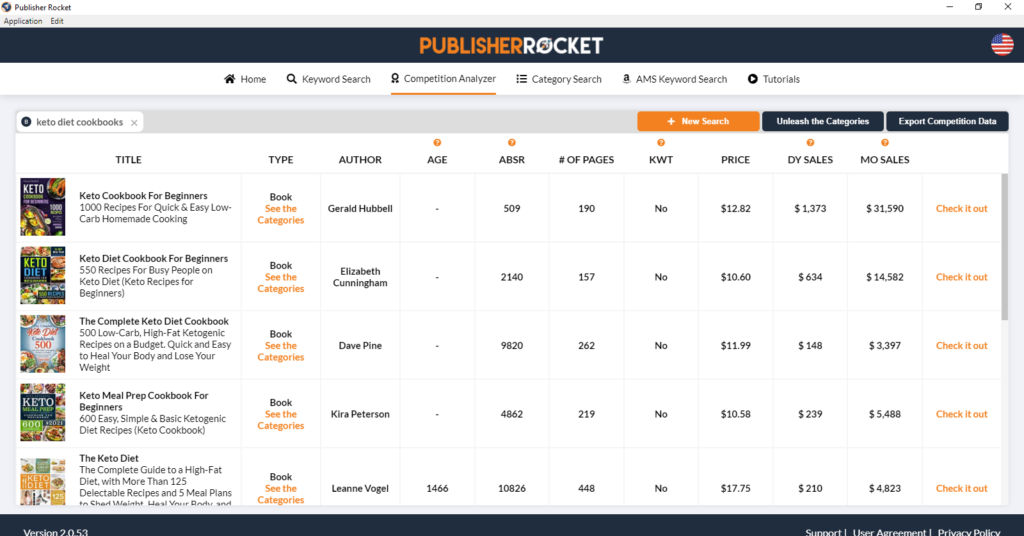 The second way to check which categories your competitors are linked to is Bklnk, a free resource where, at the time of writing, you can check categories in the US, UK and Canada.
Simply type in an ASIN or ISBN, click GO FIND! and you will see them displayed.  You can insert your own book's details to check your own book categories.  While Bklnk is a great resource, Rocket has so many other advantages which includes finding keywords for your book and keywords for Amazon Ads plus you can glean so much information about your competitors in your particular niche.
THE KEY TO UNLOCKING THOSE BOOK CATEGORIES
The secret to unlocking another 10 categories is relatively simple:
Log in to your KDP account: https://kdp.amazon.com/en_US/
Click 'Help' at the top of the page and scroll down and click on 'Contact Us'
Click on 'Amazon product page and Expanded Distribution'
Click on 'Update Amazon Categories'
Insert your ASIN or ISBN
Choose whether it's a Kindle or a print version and the marketplace to which this refers
I find it easier to add categories in a Word doc and then copy and paste into this section.  The full thread of the category (as seen on Bklnk or Rocket) needs to go in here
Delete 'Categories to Remove'
'Send message'
You'll receive an email outlining the categories that KDP have included under your title
So there it is!  Nice and easy and you now have up to 10 categories to make a greater impact on your book sales.  To achieve a #1 Amazon Best Seller is no mean feat but it is now within your grasp. 
Even if your book is in the Top 10 in a certain category, that means you will be on the first page and, although the #1 spot has the best traction when it comes to sales, potential readers may well scroll down and click on your title.
Until then, if I can help you in any way, please leave a comment below and I'll get back to you or come on over and see our range of author services at https://chascannco.com/shop/
Graham Cann is a #1 best-selling non-fiction author and CEO of Chas Cann Publishers
Affiliate Disclosure
I earn a small commission on some product links on my blog pages at no extra cost to you.  I only recommend products I use now, have used in the past or would use if there was a personal need.  The extra pennies help with the coffee fund.