There are three aspects of copyrighting that we're going to cover in this blog that may save you some aggravation further down the road.
AUTOMATIC COPYRIGHT PROTECTION
Firstly, the good news is that you own the copyright to your book the moment you put pen to paper or type the first words of your manuscript onto your PC.  Fact!  
COPYRIGHT NOTICE
Secondly, by adding a copyright notice to your front matter (the part of your book that precedes the main body of your work), you are adding another layer of protection.  The copyright notice is usually placed after the title page.  It identifies you as the owner, it tends to discourage anyone from plagiarising your work and legally you are more secure.  So it makes perfect sense to include this.
If you're a bit unsure how your front matter should be set out, take a look at this link: https://kdp.amazon.com/en_US/help/topic/GDDYZG2C7RVF5N9J
You'll see below the example of a fairly simple copyright page that I use for '1001 Jokes 4 Kids'.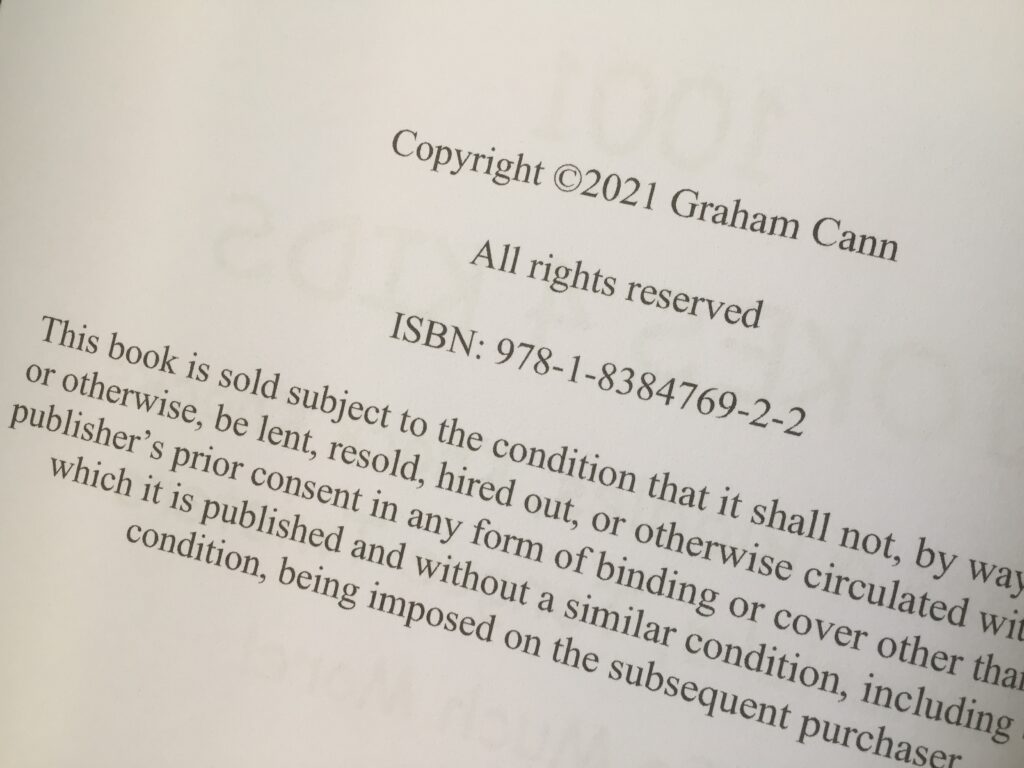 Use the copyright symbol followed by the year of publication and your name, pen name or publisher.  Finish with "All Rights Reserved" which basically means that, as the author, you reserve all the formal rights that copyright protection affords – to publish and distribute.  (If you're having trouble on Word trying to access the copyright symbol, there's an easy way to find it.  Go to Insert on the top tab menu, and then go to Symbols over to the right hand side.  Click on Symbol and then click on the copyright symbol and it'll appear on your page).  There are no hard and fast rules, but it's good practice to include your ISBN, publisher details and any credits you might like to add – see below (with thanks to https://blog.reedsy.com/)
Illustrations copyright © 2005 by Trudy White
Jacket photograph copyright © 2006 by Colin Anderson/Brand X Pictures/Getty Images
Design by Lauren Dong
Cover photography by Aaron Fedor
The disclaimer below is from our Keto Diet Cookbook and this is more involved than the joke book because of any legal ramifications.  You are free to use this if you wish but I must add that I am not legally trained in copyright law and, to be ultra safe, I would suggest that you look for a book publishing legal professional to provide one specifically for your book.
This document is geared towards providing exact and reliable information in regards to the topic and issue covered. The publication is sold with the idea that the publisher is not required to render accounting, officially permitted, or otherwise, qualified services. If advice is necessary, legal or professional, a practiced individual in the profession should be ordered.
– From a Declaration of Principles which was accepted and approved equally by a Committee of the American Bar Association and a Committee of Publishers and Associations.
In no way is it legal to reproduce, duplicate, or transmit any part of this document in either electronic means or in printed format. Recording of this publication is strictly prohibited and any storage of this document is not allowed unless with written permission from the publisher. All rights reserved.
The information provided herein is stated to be truthful and consistent, in that any liability, in terms of inattention or otherwise, by any usage or abuse of any policies, processes, or directions contained within is the solitary and utter responsibility of the recipient reader. Under no circumstances will any legal responsibility or blame be held against the publisher for any reparation, damages, or monetary loss due to the information herein, either directly or indirectly.
Respective authors own all copyrights not held by the publisher.
The information herein is offered for informational purposes solely, and is universal as so. The presentation of the information is without contract or any type of guarantee assurance.
The trademarks that are used are without any consent, and the publication of the trademark is without permission or backing by the trademark owner. All trademarks and brands within this book are for clarifying purposes only and are the owned by the owners themselves, not affiliated with this document.
So, we have the copyright as soon as we have written a piece and the copyright notice that gives us more protection from plagiarism and from a legal standpoint. 
REGISTERING YOUR BOOK WITH THE US COPYRIGHT OFFICE
The third area that you may want to consider is whether or not to register your work with the US Copyright Office (www.copyright.gov).  This is, in effect, a public record of ownership which affords the author greater legal protection including being able to claim extra damages in a law suit.  This is purely an option that you may wish to choose.
If you do decide to go down this route, you can register once a book is published but it is simpler and less expensive to register when your book is in its final draft form.  The process can be quite long-winded taking anything from one to six months, possibly more.
Don't delay publishing your book until you hear from the Copyright Office!
Just a final note about something called "poor man's copyright".  This is where you post your manuscript to yourself to prove via the post stamp that your manuscript was written prior to this date and therefore every bit as good as registering your copyright.  This is a myth that has grown up over the years that has no provision under copyright law.
Graham Cann is a #1 best selling non-fiction author and CEO of Chas Cann Publishers
Affiliate Disclosure
I earn a small commission on some product links on my blog pages at no extra cost to you.  I only recommend products I use now, have used in the past or would use if there was a personal need.  The extra pennies help with the coffee fund.