If you know very little about how to make the most of book categories on the Amazon platform, this is for you!  
We're going to take a trip down Category Lane and show you how to ramp up your book sales in no time at all!  Before we do that, let's take a look at the basics.
What are Categories?
These can be divided up into BISAC and 'Huge choice'!  
When you add an e-book or print version to Amazon, you'll be asked to add two categories.  These are what are known as BISAC (Book Industry Standards and Communications) categories.  These help publishers and bookstores categorise book subjects and manage data.  BISAC's account for around 5,000 potential categories for your book. 
The good news is that you will be able to find two categories from this list – make sure they are actually relevant to your book.   The bad news is that they are very broad categories and therefore more competitive.
Your book needs to be in the top 20 for any one category wherever possible and to have the 'Best Seller' tag means you are ranking #1 in that category.  Best seller status is what you're aiming for as this will turbo charge your sales. 
BISAC categories alone won't deliver the goods!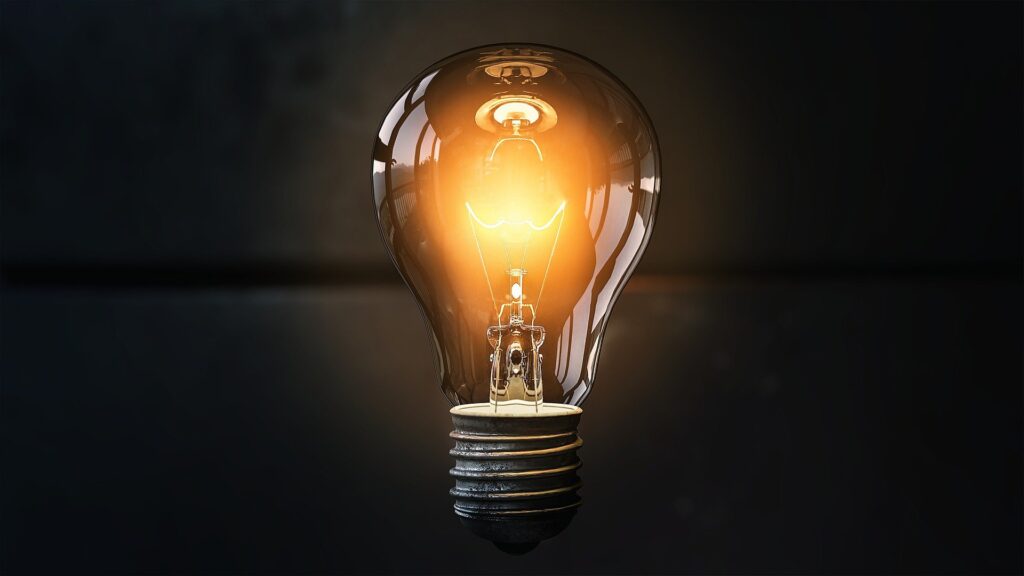 How to Turbo Charge Your Sales
What we're looking for are categories that are relevant to your book and have little competition so that you have a far better chance of ranking as a 'Best Seller' on Amazon which means that you have to sell more books in that grouping in one day than anyone else.
So, if that isn't going to happen with BISAC's then we need to look at Amazon.  If you remember, BISAC's account for around 5,000 categories.  Amazon has in excess of 11,000.  You now have over double the choice.  Even better news, you're not limited to the two that Amazon ask you for.  Not many authors know that Amazon allow up to 10 categories each for your e-book and for your print version. 
Get excited! 
This means you are far better equipped that many of your competitors who are completely unaware of this.
Here is a list of Kindle categories.  Go to your Amazon site, click on the three horizontal bars at the top left of your screen.  Click 'Kindle E-Readers and Books' (under 'Digital Content and Devices'), then click 'Kindle Books' (under 'Kindle Store').  Scroll down and on the left, you'll see this from the Amazon.com site: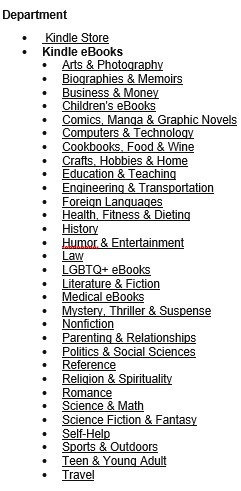 Listed here are all the main categories.  Click on to any of these and you'll discover even more sub-categories.  I clicked on 'Parenting and Relationships' and all these extra listings came up:
When I clicked on Family Relationships, these further sub-categories appeared: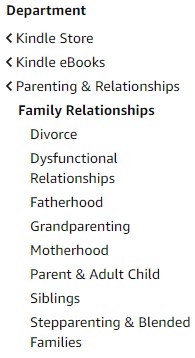 You may even find further categories as you drill down further.  So you can see that there are thousands of possibilities waiting for you to explore.
How To Find Extra Book Categories
Publisher
Rocket is one of the best investments you can make and I personally believe no serious author should be without it.
You can seek out categories by clicking a subject or subjects under 'Category Search' and then just 'Check It Out'. What Rocket will show you, among other things, are how many sales a day it will take to reach #1 in a certain category. A figure of 176 sales per day would be a big ask, but 11 sales a day would be far more achievable.
On top of that, under 'Competition Analyzer', Rocket will show you in seconds how many book groupings your competitors have opted for.
The image below shows the Competition Analyzer where, if you click on 'See the Categories' under 'Type' you will find every one for that book.
Clicking on 'Unleash the Categories' at the top right, will show you all those in which your competitors' books are listed.
Do this separately for e-books and print versions.
The second way to check which categories your competitors are linked to is Bklnk, a free resource where, at the time of writing, you can check listings in the US, Canada and Australia.
Simply type in an ASIN or ISBN, click GO FIND! and you will see them displayed. You can insert your own book's details to check your own book categories. While Bklnk is a great resource, Rocket has so many other advantages which includes finding keywords for your book and keywords for Amazon Ads plus you can glean so much information about your competitors in your particular niche.
How to Add 10 Categories
How you add up to 10 categories and therefore turbo charge your sales is relatively simple:
Log in to your KDP account: https://kdp.amazon.com/en_US/
Click 'Help' at the top of the page and scroll down and click on 'Contact Us'
Click on 'Amazon product page and Expanded Distribution'
Click on 'Update Amazon Categories'
Insert your ASIN or ISBN
Choose whether it's a Kindle or a print version and the marketplace to which this refers
I find it easier to add categories in a Word doc and then copy and paste into this section. The full thread of the category (as seen on Bklnk or Rocket) needs to go in here
Delete 'Categories to Remove'
'Send message'
You'll receive an email outlining the categories that KDP have included under your title
In future, you can change and manage your categories here
Graham Cann is a #1 best selling non-fiction author and CEO of Chas Cann Publishers where our #1 priority is helping indie authors publish and profit   www.chascannco.com