In this week's blog, book covers comes under the spotlight.  We'll show you how you can find impressive book cover designers on Fiverr where you can get a Kindle cover created for around $15 and a print version complete with a 3D mock-up for roughly $35.  
How easy is it to find a good book cover designer on Fiverr?
There are a number of excellent book cover designers in this price range. 
Sign in to Fiverr and place 'Kindle cover' in the search bar.  If you scroll down, you'll see a number of gigs (or services) offered.
You can fine tune the results by clicking on CATEGORY and ticking the Book Design box.  Likewise, under SERVICE OPTIONS and 'Genre', look for the nearest related topic for your book.  You don't want to entertain a designer whose genre is Romance Fiction when you have a how-to book on pig farming!  
Under SELLER DETAILS, I like to select Top Rated Designer under 'Seller Level'.  I'll also check for a 5-star rating with at least 100 customers.  'Seller Speaks' is self explanatory.  Being British, I'd want an English speaker.  If you have a preference for where your designer lives, this is available to you under 'Seller Lives In'.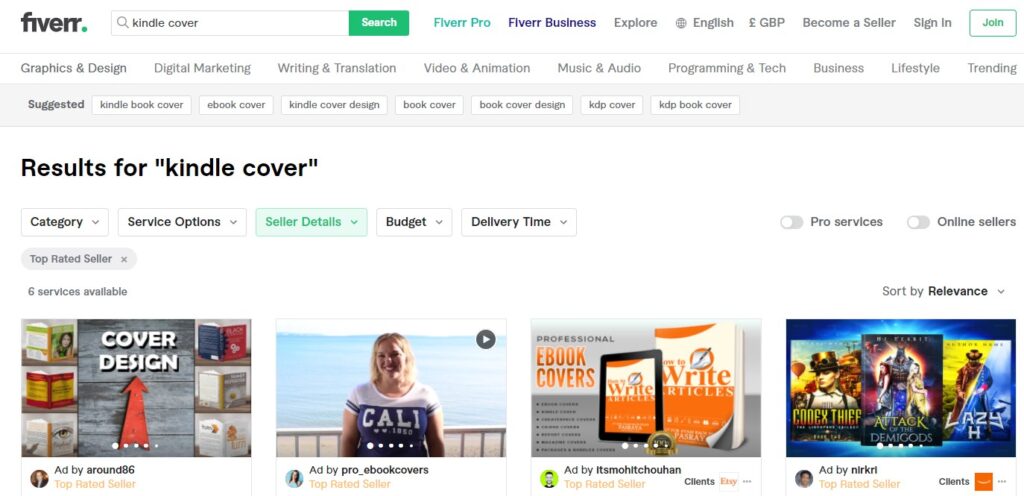 Check out a number of these sellers and what they have to offer.  Many offer  a 100% money-back guarantee which will give you peace of mind.  It's very important that the images that are used are stock images which means you own the rights to them.  If you see 'Bonus-Free Pro Stock Image Upgrade' on the seller's sales page, that is reassuring.
I would want to see at least five revisions offered.  A revision is simply where the seller is obliged to make changes to the cover if you're not satisfied.  This is in their best interests because you're not going to give a 5 star review to something that you're not happy with.  In my experience, I haven't needed to alter the draft book cover more than five times.  Some sellers are happy to give you Unlimited Revisions.
An editable Source File is normally offered.  This is where you get to keep the original file.  If the cover was created on, say, Photo Shop, you would also need that software to make any amendments in the future.  If you don't have a corresponding piece of software to make any changes, your designer can do this for you.  But if you don't have the source file, you may go back to your designer in a few years' time to make changes and they could well have ditched the original which means you'll have to pay for all the work again.
A 3D mock-up file is worth having for your marketing promotions.  
Sellers will want you to provide your title, subtitle and author name along with a some cover designs in your genre that you like.  You then choose a stock photo or photos (depending on the price package) from a website like www.depositphotos.com which houses a huge range of images for you to select from.
For print versions, you will need to specify to your seller the trim size, the ink and paper type plus the number of pages.  You will also need to supply your blurb for the back page of your book.
Some sellers offer upgrades where a more unique design is offered tailored to your exact genre.  Prices vary but are considerably more than Fiverr but this may be something that you are happy to pursue.
You can leave the book cover design in our capable hands if you wish.  We have creative designers ready to have your stunning cover with you in around 3 days with unlimited revisions from $65.  Talk to us about your requirements.  https://chascannco.com/contact-us/
Graham Cann is a #1 best selling non-fiction author and CEO of Chas Cann Publishers
Affiliate Disclosure
I earn a small commission on some product links on my blog pages at no extra cost to you.  I only recommend products I use now, have used in the past or would use if there was a personal need.  The extra pennies help with the coffee fund.